SERRAMONTE
DENTAL GROUP
Daly City Office
650-756-0938
1500 Southgate Ave., Suite 210
Daly City, CA 94015
Impacted canines may be retrieved with braces, using a surgical approach via a gold chain or straight wire. Tissue covering the tooth is uncovered. A chain or wire is attached to the tooth crown. Tissue is placed back over the tooth leaving the chain or wire coming out of the gum. For the purpose of this illustration a gold chain is used to retrieve the canines. The chain is attached to the tooth crown and the link is attached to a flexible archwire so that the wire is active (bent). Once a month, the wire is reactivated by using the next link up on the chain until the impacted canine erupts enough to attach a regular bracket on the canine. With the regular bracket in place, a more flexible wire is added directly to the bracketed canine. This process will bring the canine into position within the arch by forcing the canine to conform to the straight archwire form. This is a long process taking anywhere from 8-12 months.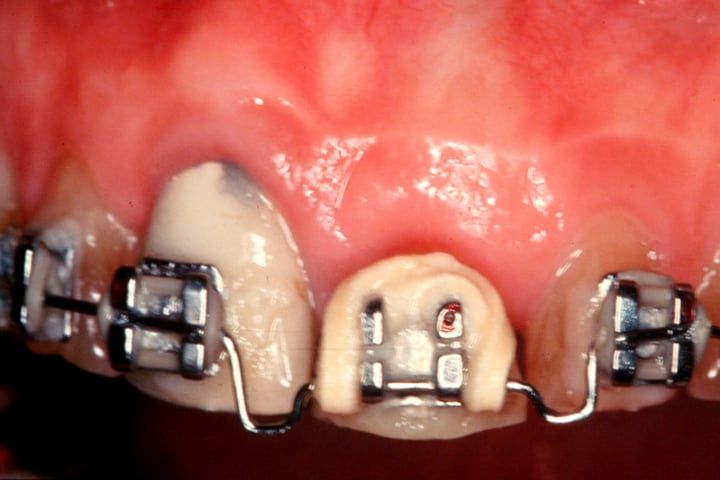 When using a fixed approach, two teeth on either side of the tooth to be erupted are used for anchorage. These two teeth are tied together with metal ties. A stainless steel orthodontic wire is then bound into the brackets of the anchorage units with elastic ties. A bracket is attached to the tooth that is growing in.
Serramonte Dental Group is keeping up with advancements in adult orthodontic procedures. Many new developments in today's orthodontic treatments have focused on helping adult patients. If you live in the Daly City area and your teeth are crooked, call us at 650-756-0938 to schedule a consultation to discuss possible orthodontic treatments. It may be that adult orthodontics are just what you need to attain a smile you can wear with confidence.
As more and more adults are wearing braces, the dental industry has realized that improvements in traditional braces are needed. These improvements in adult orthodontics have resulted in smaller, stronger, more efficient and less conspicuous brackets.
Although metal brackets are the most familiar, clear and tooth-color ceramic and plastic brackets are now available. Call 650-756-0938 and schedule a consultation with Serramonte Dental Group today.
Very infrequently, a problem may be caused more by the jaws not being in the correct position than in just the teeth being crooked. In these cases it may be necessary to surgically reposition the jaws. Usually, braces will be placed first and the teeth aligned on each jaw. Then the jaws are moved surgically so that the teeth fit together. We work closely with an oral surgeon to plan and coordinate this combined approach to treatment.
Get The Care You Deserve!
Serramonte Dental Group would love to meet you and your family and provide you with the dental care you deserve! Our office is conveniently accessible to those living near Daly City.
Request An Appointment Online
Or call us today at: 650-756-0938
Hablamos español!