SERRAMONTE
DENTAL GROUP
Daly City Office
(650) 731-3901
1500 Southgate Ave., Suite 210
Daly City, CA 94015
There are four different choices that you have when it comes to filling a cavity.
1. Composite Fillings - Natural tooth-colored filling, bonds to the tooth to provide added security.
2. Silver Fillings - Inexpensive and strong amalgam based filling.
3. Gold Fillings - More attractive than silver and provide for a better fit.
4. Porcelain Fillings - Also called inlays; the most attractive and durable of the tooth colored choices.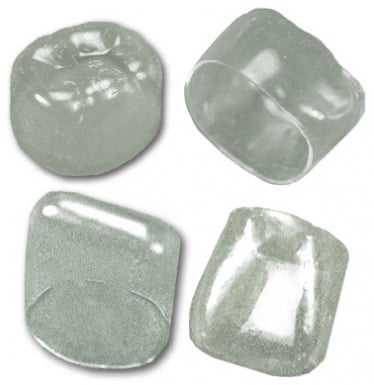 Strip crowns, also known as 'white crowns', is an alternative to placing crowns on primary incisors (top baby teeth) with large caries. Because these teeth are fixed using the same material that is used to place 'white fillings', this procedure is very technique sensitive and may not be an option for young children. With proper case selection, these 'fillings' may last for at least two to three years. Stainless steel crowns with 'white' facings (the front part is white) are also available, in the event that strip crowns are not an option. Your dentist will be happy to discuss all options available for aesthetic restorations on primary teeth.
Stainless steel crowns, also known as 'silver crowns or caps', are a very common procedure used to restore 'baby teeth' (and occasionally permanent teeth) that have large caries or those that had a pulpotomy (baby root canal). Although most teeth can be filled with a white or silver filling material, stainless steel crowns are by far the most predictable and durable option to fix 'baby teeth' with large caries, large defects, or damaged enamel. This is particularly true in very young children that have caries at a young age, since it is preferred that the 'fixed' teeth last as long as possible.
Get The Care You Deserve!
Serramonte Dental Group would love to meet you and your family and provide you with the dental care you deserve! Our office is conveniently accessible to those living near Daly City.
Request An Appointment Online
Or call us today at: (650) 731-3901
Hablamos español!