SERRAMONTE
DENTAL GROUP
Daly City Office
650-756-0938
1500 Southgate Ave., Suite 210
Daly City, CA 94015
Sedation dentistry administers medication to help dental patients remain calm and relaxed prior to and during dental procedures. If you are experiencing an uncomfortably high level of anxiety, Serramonte Dental Group may recommend dental sedation. The most common form of dental sedation is an oral medication or nitrous oxide gas which is inhaled.
Decades of research and successful practice have shown that the inhalation of a mix of nitrous oxide and oxygen provides fast, effective analgesia, pain relief and, relaxation. Allowing Serramonte Dental Group to complete your dental work while you stay absolutely comfortable. Nitrous oxide takes effect almost instantly and is out of the patient's system within a few minutes, allowing a patient to quickly return to normal activities after dental work is complete.
When nitrous oxide alone is not enough to calm the child down for dental treatment, the next step in helping the child cope with treatment is to give a child a mild sedative by mouth. According to the American Academy of Pediatric Dentistry, the indications for oral sedation are as follows:

Preschool children who cannot understand or cooperate for definitive treatment
Patients who are anxious and fearful of having dental treatment done
Patients requiring dental care who cannot cooperate due to the lack of psychological or emotional maturity, or cognitive, physical or medical disability
The oral medication is used in combination with nitrous oxide to help relax the child, but they DO NOT put the child to sleep. For this reason, oral sedation is considered "conscious sedation." Also, oral sedation will help to calm the child, but it does not alleviate the pain associated with dental treatment. Therefore, local dental anesthesia (lidocaine) is still needed to ensure the patient does not feel anything during treatment.

It is very important that the child does not eat or drink anything on the morning of the appointment (NPO). The reason is that if the child has food in the stomach, he/she can potentially vomit during treatment and the vomitus (stomach contents) can go into the lungs and cause serious health risks (aspiration). Unlike nitrous oxide, the medication used in oral sedation stays in the body for 4 to 8 hours or more. Therefore, the child is still sedated and drowsy after dental treatment and will need to be supervised by an adult and kept indoors at home for the rest of the day.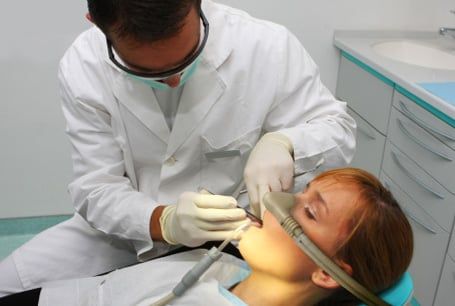 Nitrous oxide is also known as laughing gas or magic air. It is used in combination with oxygen to help calm an anxious child so that dental treatment can be done comfortably for him or her. It is administered via a nasal mask. As the child inhales during normal breathing, the gas is absorbed into the body and begins to calm the child down within minutes. Thus, the advantages of nitrous oxide/oxygen combination are:

No shots or pills needed
The concentration of oxygen delivered with nitrous oxide is much higher than room oxygen; therefore, the patient is getting more than enough oxygen for normal breathing
Works quickly - the calming effects are achieved in 2-5 minutes
Can control the amount of nitrous oxide delivered (dosage can be titrated)
Once treatment is done, nitrous oxide clears from the patient's body within 5 minutes (no undesirable prolonged effects)
Most importantly, it is very safe and effective
Get The Care You Deserve!
Serramonte Dental Group would love to meet you and your family and provide you with the dental care you deserve! Our office is conveniently accessible to those living near Daly City.
Request An Appointment Online
Or call us today at: 650-756-0938
Hablamos español!